Fingal Head and Dreamtime Beach, natural beauty amongst ancient lava flows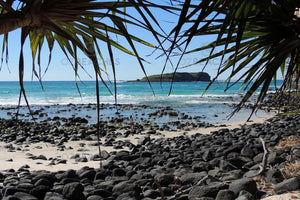 Looking through the palm trees towards Cook Island
Fingal Head, an amazing basalt rock formation
Fingal Head, located on the Tweed Coast of northern NSW, is a place of natural beauty and is one of the areas hidden gems. The headland itself is an amazing basalt rock formation that was formed around 23 million years ago by ancient lava flows from the nearby and extinct shield volcano, Mt Warning. Mt Warning is also known as Wollumbin to the local Aboriginal people and it is one of the world's largest and best examples of an erosion caldera with a diametre of over 40km. 
The echidna-shaped basalt rock formation at Fingal Head
Cook Island and the Giant's Causeway
According to logbooks, Fingal Head was first sighted and recorded by Lieutenant James Cook at around 5pm on the 16th May 1770. There's a small island just offshore in honour of his name, Cook Island, and the water between the mainland and the island is referred to as the "Giants Causeway'. Apparently this is a throwback to the famous stretch of water between Northern Ireland and Western Scotland. It is highly probable that Fingal Head was named after 'Fingals Cave' on the island of Staffa in the Inner Hebrides of Scotland due to the similarity in appearance of the basalt outcrops that extend above the oceans surface. 
Looking east across the Giant's Causeway towards Cook Island
The top of Fingal Head is a great spot for a picnic
Palm trees always make life seem more tropical

Looking north along Fingal Beach towards Letitia Spit 
Cook Island
Cook Island is located around 600m offshore from the headland at Fingal and is a known breeding area for a variety of seabirds such as terns and Shearwaters. The island is host to a huge array of marine life such as Groupers, Trevally, Surgeonfish and Parrotfish, and the area is frequented by migratory shark species including Wobbegongs, Blind Sharks and Leopard Sharks. Cook Island was proclaimed a marine reserve in 1998 and due to the diversity of the area no fishing is permitted in the waters that surround it.
 The rocky shoreline of Fingal Beach on the Tweed Coast of NSW
Fingal Head Lighthouse
The Fingal Head Lighthouse was built in 1872 to help guide ships along the coastline and to remind seafarers to steer clear of Cook Island located just offshore. The lighthouse itself is not very high, standing at only 7m tall, however its white light has the power of 1,000 candelas and has a range of 17 nautical miles (31km). While most people recognise Byron Bay as the most easterly point of Australia's mainland, the headland at Fingal is not too far behind in terms of its easterly location and the lighthouse still plays an important part today.
Head left through the trees to find a beautiful and uncrowded beach
The rainforest is 'littorally' almost gone
The area around Fingal Head is extremely important as it's one of the last remaining pockets of littoral rainforest along the Tweed Coast. A littoral rainforest is described as being a community of plants and animals that occurs close to the sea and is dominated by rainforet plants. Throughout Australia they are nationally listed as critcally endangered and at risk of extinction which is why the areas need to be protected and preserved.
Such a natural and beautiful beach - Dreamtime Beach NSW
Dreamtime Beach
Dreamtime Beach, located on the southern side of Fingal Head in the Northern Rivers region of NSW, is one of the areas hidden gems and the place to go to escape the crowds. Despite the fact that you're only a short distance from the rest of civilisation, Dreamtime Beach maintains a certain seclusion and solitude that leads you to believe you're a million miles away. 
Perfectly positioned palm tree overlooking Dreamtime Beach
Half the fun is getting there
To get to Dreamtime Beach you need to walk through the remains of a wonderful coastal rainforest that truly sets the mood for a unique day at the beach. After you've twisted and snaked along the path you burst out from the littoral rainforest and are instantly greeted by low lying sand dunes and the beautiful waters of the Pacific Ocean. There's a certain primitive charm about the place which is only strengthened by the large and hexagonal rock formations of Fingal Head that stand sentinel over Wommin Bay.
Looking south along Dreamtime Beach from the top of Fingal Head
Where dreams are made
Dreamtime Beach faces almost due east, ever ready to greet the dawning of another beautiful day. It doesn't take long to find yourself infected with the timeless magic of the headland, its secluded shores and the sweeping panoramic scenery. Photographers, surfers and nature enthusiasts flock here and consider Dreamtime Beach and Fingal Head a natural treasure.
The walk through the rainforest to Dreamtime Beach is as enjoyable as the beach itself
Surfing at Dreamtime Beach
Surfing is usually best at the northern corner of the beach, which is protected from prevailing summer north easterly winds and as it faces due east it is offshore in all westerly winds (perfect in north west). It's known as a bit of a swell magnet, with the headland helping to create rips and channels that can produce punchy and hollow waves when conditions are right. Best in small to medium swells and a great place to visit to escape the crowds of the more popular beaches nearby. On a scale of 1-10 (with one being the least dangerous and ten being the most), Dreamtime Beach and Fingal Head come in at a six on the beachsafe.org.au ratings scale. This put the beach in the moderately dangerous class (primarily due to the rips along the beach), and there are around 10-12 rescues performed here each year by the local Fingal Rovers SLSC..
Perfect place to go to escape northerly winds
Getting to Fingal Head and Dreamtime Beaches
To get to Dreamtime Beach, simply turn off of the Pacific Highway and onto Fingal Road and follow the signs. There are a few diffferent access points to both Fingal Beach and Dreamtime Beach so why not add to your adventure by turning down one and seeing where the roads takes you!
Map of Fingal Head and Dreamtime Beach
Current weather at Fingal Head and Dreamtime Beach
What is the next beach north from Fingal Head and Dreamtime Beach?
Letitia Spit is the next beach north from Fingal Head and Dreamtime Beach
What is the next beach south from Dreamtime Beach?
Kingscliff Beach is the next beach south from Fingal Head and Dreamtime Beach
Thanks for reading
I hope you enjoyed reading this article as much as I enjoyed writing it. If you're looking for a beach that is rich in natural beauty and feels like a million miles away, Fingal Head and Dreamtime Beach should be at the top of your list on the NSW Tweed Coast. Boasting amazing rock formations, great surf and secluded ancient rainforests, the Fingal Head and Dreamtime Beach area makes for a unique day at the beach and is one of the more scenic coastal areas in all of NSW.
Prints available for purchase
All photos in this article are available for purchase in various sizes as high resolution acrylic glass or canvas prints, and are available for licensing purposes for media and marketing/promotional material. The photos you see here have been compressed for optimal online user experience, which means we've intentionally reduced the file size and quality of each image to ensure the pages you visit load faster.
High res prints without watermarks
Any printed reproduction of the photos you see on OZBEACHES would be done using the original 20+ megabyte RAW files, with the additional layer of having a professional graphic designer personally inspect each image and optimise for print. The OZBEACHES watermark would be removed and would not be visible on your print. If you have any questions about this process, please email me (Adam) and let me know which photo you're interested in by quoting the caption beneath it. Alternatively you can check out our featured images in the print gallery.
Please share your thoughts
If you think Fingal Head and Dreamtime Beach is a place you'd like to visit with your friends, why not share this article with them via one of the social links below. I want to help people (including you!) find their dream Australian beach, and the more information we share together will ultimately help us all in achieving that goal. I hope you enjoy your search.
Cheers,
Adam